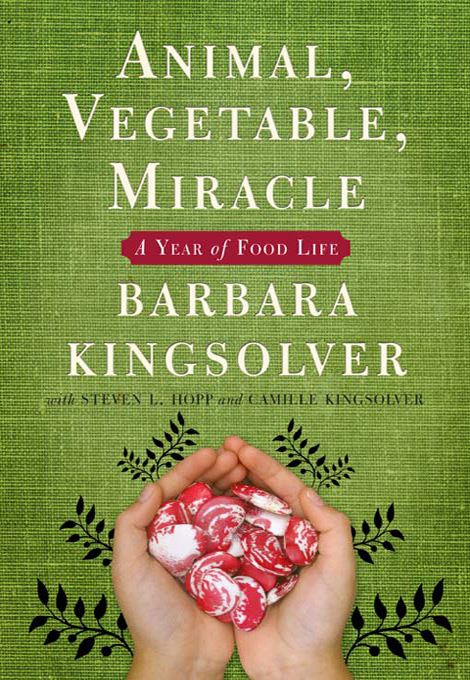 I love food.
You all may know my story with food and nutrition.
The short version is: My dad was diagnosed as pre-diabetic; I started paying attention to what I ate and subsequently lost 40 lbs in a year without any kind of exercising.
Over the last few years I've learned more and more about nutrition and sugar and what our bodies actually need (ex: good fats help regulate blood sugar so don't feel bad about eating guacamole).
As I say, that is the short version … and in the last week or so I've read Animal, Vegetable, Miracle: A Year of Food Life by Barbara Kingsolver, and I'm excited to add local-eating to my list of un-American food habits*.
Animal, Vegetable, Miracle by Barbara Kingsolver is (from Wikipedia):
a non-fiction book by Barbara Kingsolver detailing her family's attempt to eat only locally grown food for an entire year.
The book revolves around the concept of improving the family's diet by eating only foods that her family was able to grow themselves or obtain locally (save for grains and olive oil). Kingsolver, along with her husband and daughters, start a farm in Virginia where they grow and can different varieties of tomatoes, learn about rooster husbandry, make cheese, and adjust to eating foods only when they are locally in season. The book contrasts this with the ecological costs of growing food in factory farms, transporting it thousands of miles, and adding chemical preservatives so it will not spoil.[1][2]
Not gonna lie: I LOVED this book.
LOVED it. It speaks my language (food, glorious food). I want to reread it right now. I want to go to a Farmer's Market and learn what's in season and cook amazing recipes cobbled together from what grew this week a few miles away.
In spite of my Master's degree and all, I really do like being domestic. The cooking part, not the cleaning part.
I am fascinated by the cultural changes that have been wrought in the latter half of the 20th century in America. Totally aside from any economic or environmental arguments for local-focused eating (both compelling), the gigantic shift in just how we think about food is astounding. How did we go from being able to grow and can our own vegetables to not knowing where hamburgers come from in just a couple generations?**
My great-grandmother was a farmer – she kept a roadside stand to sell produce in Ohio mid-century. My mom has all kinds of memories of helping pick food (and eating 1/3 of it) or playing hide-and-seek in the corn fields. Just 50 or so years ago.
But in spite of this, my mom never really grew anything herself – my dad had a small patch of garden with strawberries and tomatoes that he started when I was in about high school, but that's it. I daydreamed about having a garden, mostly inspired by Anne Shirley. I'd draw out my plan of how I was going to use this corner or that corner of the yard. I think my parents even bought me seeds. But I never learned how to GROW anything.
Kingsolver's book is part memoir – which I love. The personal stories and reactions and expectations are what make local-eating seem most doable. I want to have a pair of dirt-stained-knees gardening pants. I want to be able to know instinctively when it's time to plant the tomatoes. I WANT to grow onions, weaving the dried stalks into braids to hang in my kitchen for use all winter long. That sounds like something I can manage and would love.
But the book is also part nonfiction reporting on the state of the food industry. Sidebars including the recent statistics on pesticide effectiveness or genetically altered corn. I love that the book is peppered with URLs where I can learn more about really ANY of the topics discussed (except turkey mating. Apparently that kind of info is just not around).
I seriously loved this book and have already added it to my must-buy list. Also my list for Andrew to read. That list is getting rather long.
I fully admit that living in SoCal I have it WAY easier to eat well locally all year. But we're paying ~$4/gallon for gas so surely you won't begrudge me that.
I usually post about food/home topics at Those Crazy Schuberts if you'd like to follow me there as well.
Reading Animal, Vegetable, Miracle plants a seed of inspiration to:
Buy the book and re-read each chapter in the month it corresponds to
Reread my other Barbara Kingsolver books. I love her.
Make friends with a farmer (or 2)
Visit Appalachia
Visit one of our local farmers markets every week.
Put together my Team Schubert cookbook with recipes organized by season (I'm using these templates)
Make pumpkin soup or pesto or any of the other dishes using the recipes in the book (find the recipes at the book's website)
Attempt canning tomatoes (again, recipe in the book)
Attempt making my own cheese (scary, but apparently not difficult)
Find someone to teach me about gardening and soil and compost and all of that
Plant a garden (our backyard has been basically wasted for the year we've lived here)
 Have you read this book? Any seasonal recipe recommendations for me?
*un-American in this instance being defined as no fast food, very very very limited processed food and valiant attempts to quit sugar, among other things.
**not exaggerating for some kids