CONGRATULATIONS REBECCA!!

30LISTS!!!
Rebecca, I'll send you an email later today ….
Everyone else: I really want you to join me!!
If you haven't already, you can REGISTER HERE!
What does registration include?
Once you register you will receive an automatically downloadable file giving you access to the private blog for March 2013's 30 Days of Lists as well as exclusive discounts from our sponsors and ambassadors.
The #30Lists challenge blog is open immediately (and will remain available for at least a year).
Upon logging in, you'll have immediate access to: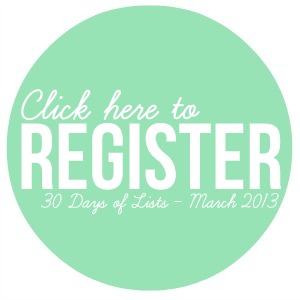 private forum just for March #30Lists participants
printable download with ALL of March's list topics (for those of you who want the topics ahead of time)
more exclusive printable downloads from our ambassadors and sponsors
Throughout February, we'll introduce:
tutorial on adding images to the Flickr group
tutorial on using the #30Lists hashtag for Instagram
tutorial on using the forum
introductions to our sponsors
Kam and Amy's individual 30Lists books
'your take' on the #30Lists book covers
giveaways from sponsors and ambassadors
Starting March 1st:
1 new list topic will be posted each morning
exclusive tutorials
additional giveaways
list topics hosted by some of our sponsors
'your take' posts high-lighting the lists all of you are making
Start stocking up on your sticky-notes, ordering notebooks from your favorite online sellers, or creating a journal of your own to house your lists, March 1st will be here before we know it.
The daily list prompts won't start until March 1st, but you can trust us when we say that it's an excellent idea to check the private blog regularly between now and then for tutorials, updates, and maybe a giveaway or two.
Also, it isn't too early to get to know your fellow Listers!